Ingresa o regístrate acá para seguir este blog.
Seguir este blog


@NataliaGnecco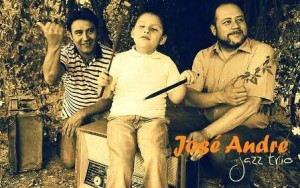 I  am not a child prodigy 
Jose André Montaño is a very modern young person, his musical consecration does not prevent him to be always in contact with admirers who visit his profile on facebook assiduously and follow with appreciation his artistic videos, presentations and announcements. Thanks to the social network his father keeps s in touch with many people and serves as connection between those who wishes to communicate with Jose André, to congratulate him or to demand an interview. After several months of follow-up , and conversations with his father in Bolivia, the young artist could answer the next  questions bellow. 
Where were you born?
I was born in Cochabamba Bolivia on March 20 2005. We live in Cochabamba, but my father is from Riberalta Beni, and my mother from Oruro.
How many brothers do you have?
I do not have blood brothers but thanks to God I have many musician brothers. My musician friends are like my brothers.
Where do you study?
I attend the Kepler School. I am in first level. I am learning to read and write.
When did your love for music start?
I began to like music since I was three years old. It listened to the infantile Pink Floyd, Miss Rossy, Simpson, Barney and songs.
How many instruments do you play?
I play battery, afuche, maracas, pandereta, yenbe, timbales, piano, keyboard and I love to play blues with the harmonica.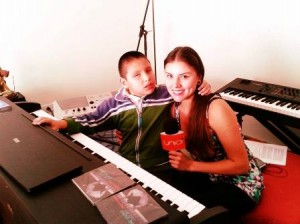 How do you feel when you hear the applauses from the public?
When receiving so many applauses I feel happiness, emotion and I like it very much. I feel like never leaving the stage because the public offer me, more and more applauses
Tell us some experience of your trips outside Bolivia. 
I have traveled to Arica Chile as well as Brazil, but I did not go to play, I was here for a medical evaluation.
Your fingers fly across the piano. Have you heard that people in Bolivia say that you are a child prodigy? Well I do not consider myself a child prodigy. If my fingers can fly across the piano, it is because I play the piano with my heart.
If you could send one message to the children of the world, what would it be?
I wish I could send a message of joy and happiness to all of them. Also I want the children to do their best and to work hard to be better every day.
Finally, what are your plans for the future?
It would like to play inside Bolivia and then bring my music overseas, to everybody.
Photos: José André Montaño
(Visited 552 times, 1 visits today)