Ingresa o regístrate acá para seguir este blog.
Seguir este blog


[Listen to an audio version of this blog entry here.]
In September, Migración Colombia, the body responsible for granting extensions to temporary tourist passes, announced that the grace period for foreign visitors who found themselves stranded in the country was coming to an end.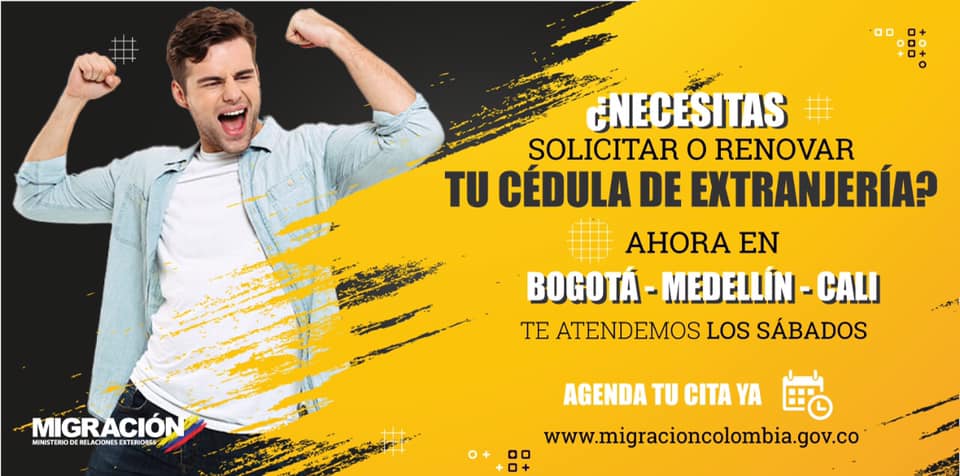 Escape from limbo land
From the 21st of the month, days spent here would, in effect, start to be counted again, having been frozen when lockdown was introduced in March.
For tourists, the deadline is 01 November to either apply for another 90-day permit or leave.
If you're leaving within the time period, well that's straightforward enough. However, it gets trickier if you're looking for an extension as this requires an in-person meeting at a Migración office.
The initial communication from the government body stated that all appointments must be booked online. Those who turned up at Migración without one would be turned away.
However, facing into a six-month backlog and reopening at only 30 per cent capacity, securing an appointment any time this year quickly became next to impossible for many.
You see, it's not only tourists Migración deals with. All foreigners based here who aren't currently residents or citizens have to use its services at least once a year.
Those who, during lockdown, were granted a visa or residency — a fully online process done with a different entity, La Cancillería — are expected to have these registered at Migración. This is one side of the same coin for the issuing of an ID card — cédula extranjería — corresponding to said visa/residency.
As far as I'm aware, this process must be begun on or before 21 October. (In "old normal" times you had 15 days to register a newly-issued visa.)
'I've been told of incidents where people with such emergencies were refused entry to a Migración office because they didn't have an appointment reserved online. This is completely at odds with the official line.'
That deadline also applies to foreigners living here who had a visa/residency application deemed inadmissible or whose visas have expired or find themselves in the country as an "irregular" for whatever reason.
How I initially understood it was that those in such a position had only to register their intent to legalise their status, which in most instances means applying for an emergency stay called a salvoconducto. (Another option is to leave the country at the earliest possible opportunity — that usually means no more than 30 days after a visa expiry date.)
If these people in limbo can't get an actual in-person appointment before 21 October because the system is overwhelmed, surely they can't be held responsible for that?
It now appears, however, Migración expects such cases to have reached a conclusion by the deadline.
The latest advice on its website states that if your appointment is after the date your document expires or you simply can't get an appointment and yours is a case that needs urgent attention, you should go immediately to one of its offices, preferably, I'm guessing, the one closest to you.
But for the grace of Duque?
That's the official line. As is often the case with such things, though, what's happening on the ground is different. I've been told of incidents where people in such dilemmas were refused entry because they didn't have an appointment reserved online.
I'm also aware of a number of Bogotá-based foreigners being forced to travel to Migración offices in cities hundreds of kilometres away to resolve their situation before they became irregular. Great in these coronavirus times, isn't it?
One of these was somebody applying for residency. A day before his latest visa expired he received notification from La Cancillería that his application was deemed inadmissible — something that seems to be happening to a lot of folk requesting visas or residency these days.
Thus, faced with losing the continuity of five years of visas, the most crucial, time-consuming requirement for a residency bid, he had to hightail it from the capital to Neiva in order to seek a salvoconducto from the Migración office there, effectively buying time to sort out the issue with his original residency application.
It worked out for him, he got what he needed. However, this is the exact type of case where I would have thought flexibility would be forthcoming from both La Cancillería and Migración. The applicant didn't want to test that, hence his last-minute dash south to Neiva. It must be said, the fact these processes involve two different government entities doesn't help.
The chief press officer at Migración did tell me in a WhatsApp message that they were being flexible. I've no reason to doubt that. I must also state that I've always found officials at that body reasonable and informative.
Nonetheless, potential arbitrary flexibility and understanding aside, one immediate solution to all of this would be an extension to the grace period. We're still in the middle of this pandemic after all. Forcing people into unplanned travel in such times doesn't seem like best practice.
So, President Duque, you have it in your power to tidy up this messy situation. Or are the conspiracy theorists on to something? Is Colombia systematically forcing foreigners out? Surely not. _______________________________________________________________
Listen to Wrong Way's Colombia Cast podcast here.
Facebook: Wrong Way Corrigan — The Blog & IQuiz "The Bogotá Pub Quiz".
(Visited 360 times, 1 visits today)