Ingresa o regístrate acá para seguir este blog.
Seguir este blog


On 27th June, I woke up to the triumphant El TIEMPO headline "¡Adios a las FARC!" which coincided conveniently with the end of a 3-week study programme I was taking at Los Andes about the peace process. With FARC nationally demilitarised, and one day left of the course, the trip to the demilitarised zone was solidified; a prospect that caused much stir and speculation.
That morning, the other students and I had spent 45 minutes excitedly streaming the subtitle-less ceremony; an experience that would have been lost on the 80% of students who didn´t speak Spanish were it not for the transcendent feeling that history was happening. Only later did I appreciate that for many Colombians it was a day like any other, but for a group of international students learning about peace, it felt seismic.
Later that day, we had a talk from two representatives from the High Commission for Peace to explain to us how the demilitarised zone, or zona veredal, works. They showed us a nice diagram that made it look like a happy, albeit vigilant, farm; with blue skies, a smiling sun, and, apparently, actual farmyard animals. The UN camp was based outside the circle. The circle itself was guarded by the Colombian military and within the circle was the FARC camp and the arms containers, and a little reception area where visitors were permitted.
The happy farm image curled at the edges slightly when our coordinator, Simone, reiterated we were in no way obliged to go and implored us to consult our respective Ambassadors over the potential security threat. Then a clipboard was passed round so we could sign away Los Andes´ liability for our wellbeing. A rather tense Q&A proceeded, with hysteria mounting. Our other coordinator Maria Paula assured us it would all be fine, but that we should wear mosquito repellent.
Dry-mouthed and bleary-eyed, we boarded the bus to the Icononzo at 5am the following Thursday. I made the foolish decision not to sleep, which I think exacerbated how surreal the whole day felt.
After a long drive we arrived at the UN camp and were greeted by 8 smiling uniformed men and women. I assumed they were all UN employees, but as they introduced themselves I realised the colour of their jacket corresponded to which group they represented. The UN "civilians" were in blue, the FARC in brown and the Colombian military in green. But there was no pecking order. In the presentation they all chipped in and built on what their differently-coloured colleague had commented.
One of the UN representatives told us that in the Antonio Nariño Transitory Zone there are 295 FARC members, of which 113 are women and 10 are children. She added that 20 women are pregnant, including Maria Marisela sat on her left, who went a rosy shade when her acknowledgement caused a congratulatory murmur.
We then got back on the bus and drove for about an hour. The bus started to struggle on the steep, uneven road, so we got out and walked. Eventually the sign welcoming us to the FARC camp came into focus.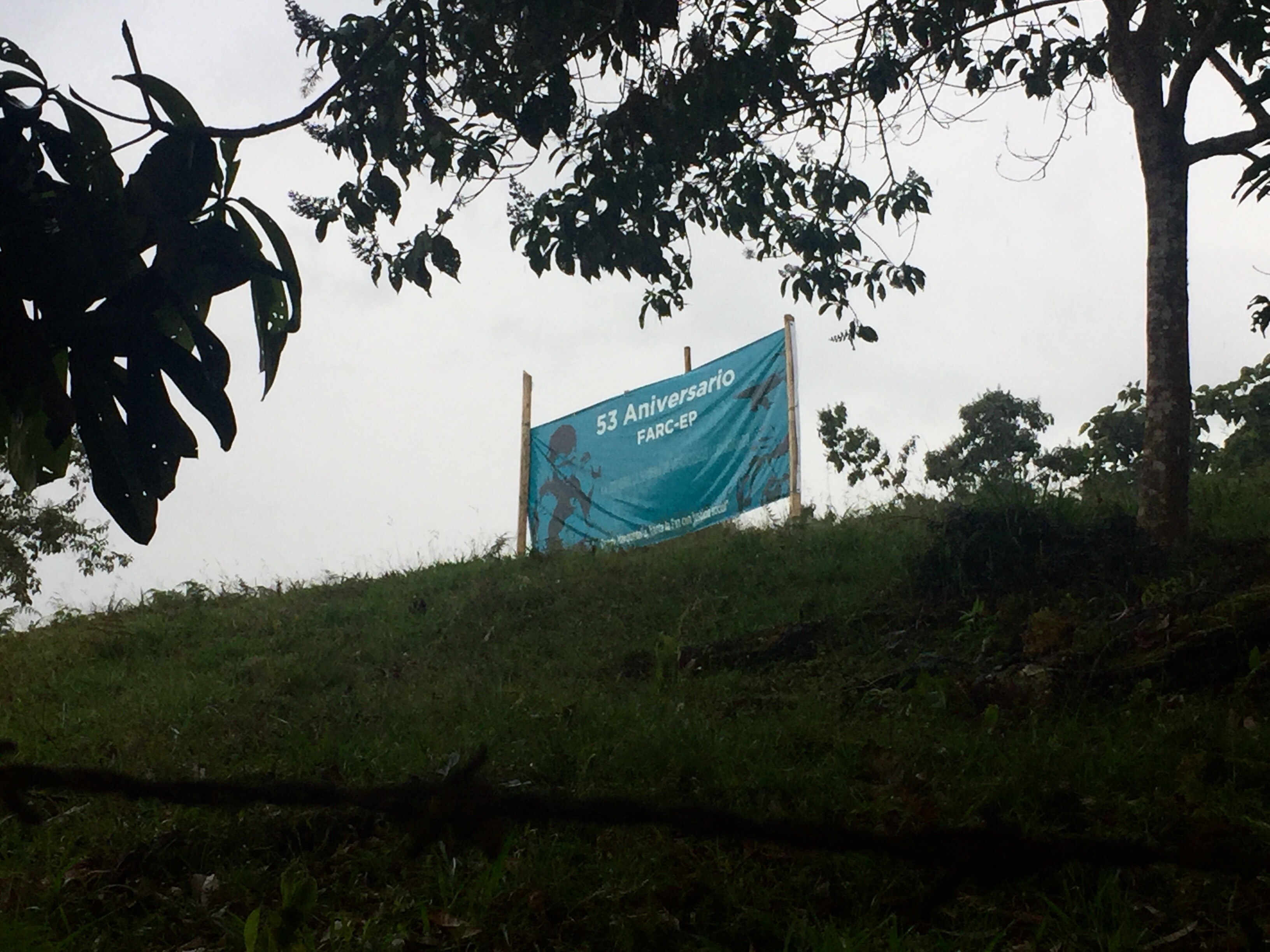 After a quick lunch, about 30 members of the FARC came to the reception area, and around 15 of them sat down, unintentionally (I think) assembling in a tiered arrow-head formation, with a gentleman in a beret, the commander, and the only woman among the seated at the arrow´s tip. The others gathered around the peripheries inquisitively.
We nervously formed a messy semi-circle around them, unsure how near or far was appropriate. The silence as people shuffled into place would have been fraught were it not for the sound of a mother cooing at her baby girl. Then the beret-ed man stood up, and with a big smile, welcomed us to the camp in Spanish and said they were grateful to receive us. A Los Andes student relayed his message in English, and everyone relaxed a little.
The most surprising thing I learned immediately was that pretty much all the ex-combatants said they wished to stay there indefinitely, or permanently. The transitory zone was not just a place to dump arms and await documentation, it was their new home. At the moment, most of the FARC are living in cambuches; informal housing constructed with wood and tarpaulins, while the government builds more sophisticated accommodation, with 320 rooms due to be ready in the coming months. The UN and the military will eventually withdraw their oversight and protection, but the FARC are permitted to continue living there.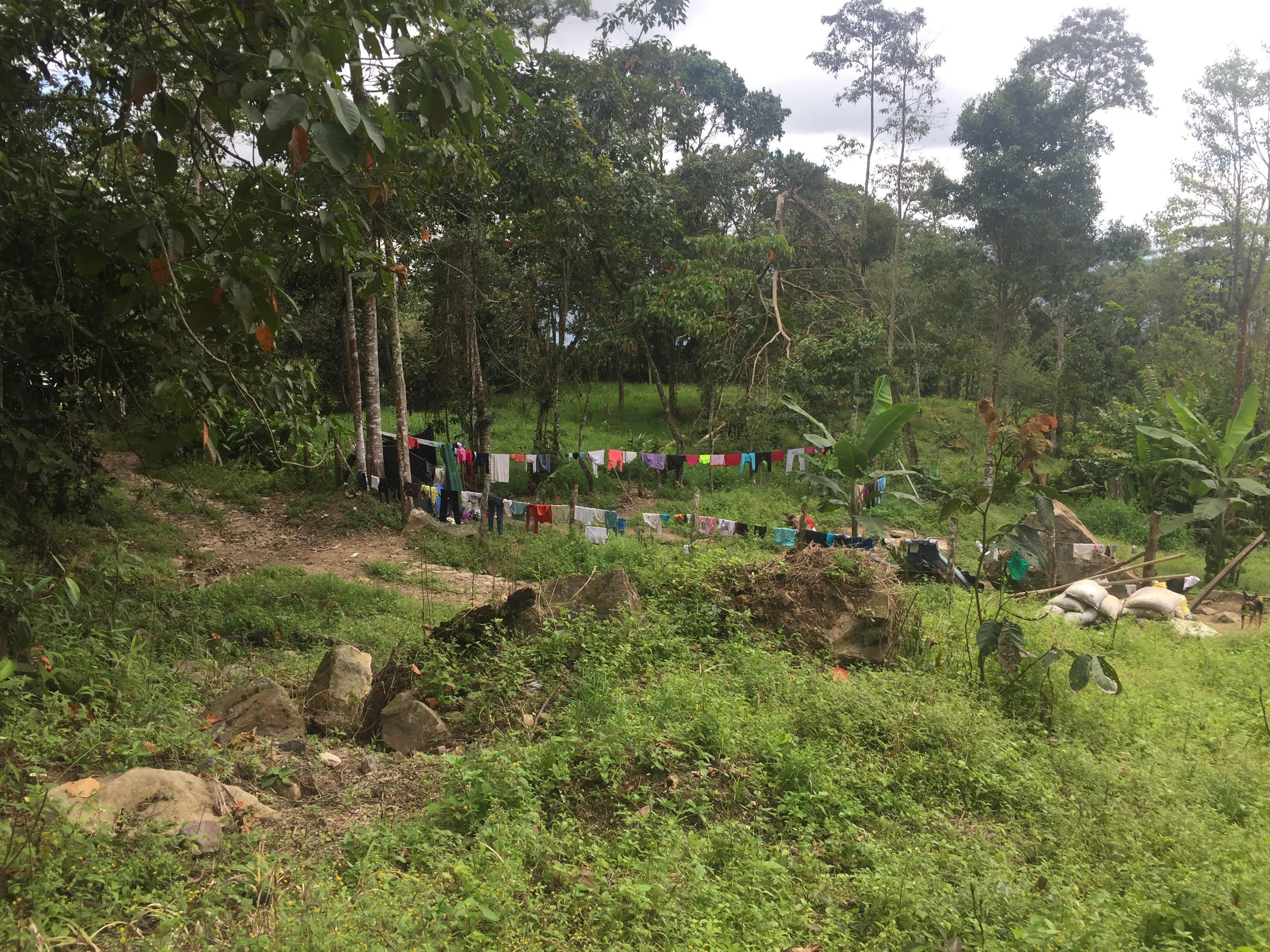 This understandably led someone to ask how the local community felt about the FARC camp on their doorstep. Another man answered: initially it was tense, particularly as locals thought it might cause an economic downturn in the area. However, the effect has been converse: visitors interested in the demilitarised zone have boosted local economy. He also said the more the local community visit, the less anxious they feel about living on the outskirts of a transitory zone.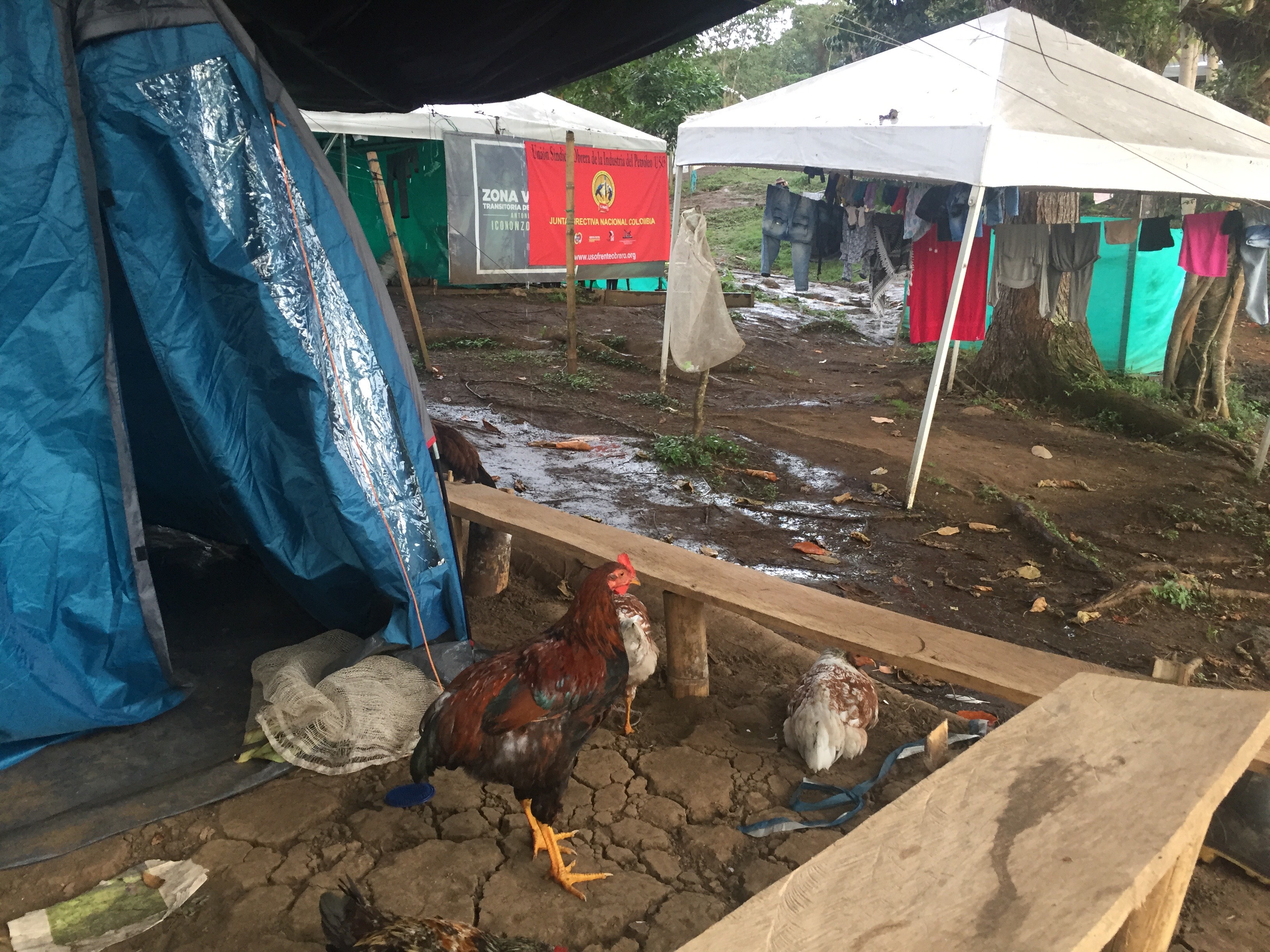 Of course, this is one man´s account. I would have to speak to the neighbours to verify this is the general sentiment. Although I can testify that about 60 empanadas that may not have been consumed in the town of Icononzo that day, were consumed. And despite only 2 days passing since FARC nationally demilitarised, Antonio Nariño had already received some 40 visitors. I asked if he ever feared for his own safety, he replied that "we are prepared for danger in the pursuit of peace".
By this point I sensed that there was a fissure between how open the FARC were in receiving us, to us taking pictures, to us knowing their names and asking questions, and how open their responses would actually be. I also doubted how probing our questions would actually be. As part of the course we had already met with two Los Andes MA students who had previously been members of the ELN and the AUC, another left-wing guerrilla group and a paramilitary group, respectively. The woman who had left the ELN in 2004 told us we were only the second group to whom she had ever admitted to being an ex-guerillera, and she didn´t think it was ever something she would be open about. Despite this secrecy, her insight into life in the war was very revealing, even at her own expense. It did not feel a though we would reach this level of intimacy with the FARC.
But then a man in a Bart Simpson T-shirt suggested that we abandon the arrow-head / semi-circle seating arrangement and speak on a more informal, one-to-one basis.
I chatted to Adrian, who introduced himself with his nomme de guerre, about what his hopes for the FARC´s future as a political party were. He explained that at first the focus was to bring about social change at a local level. Adrian, like many of the other members, put a strong emphasis on free education as being central to this change and preventing young people form taking up arms. Adrian joined the FARC 40 years ago and has not seen his family since, he believes most of them will have died by now.
Another student asked him if their communitarian lifestyle would make reintegration into a capitalist society difficult. "Destroying capitalism is very complex, it´s a wild animal. And a lot of technology supports it nowadays. It destroys man." I looked over at the man carefully arranging the FARC souvenir keyrings on a table behind Adrian, and then quickly back to Adrian.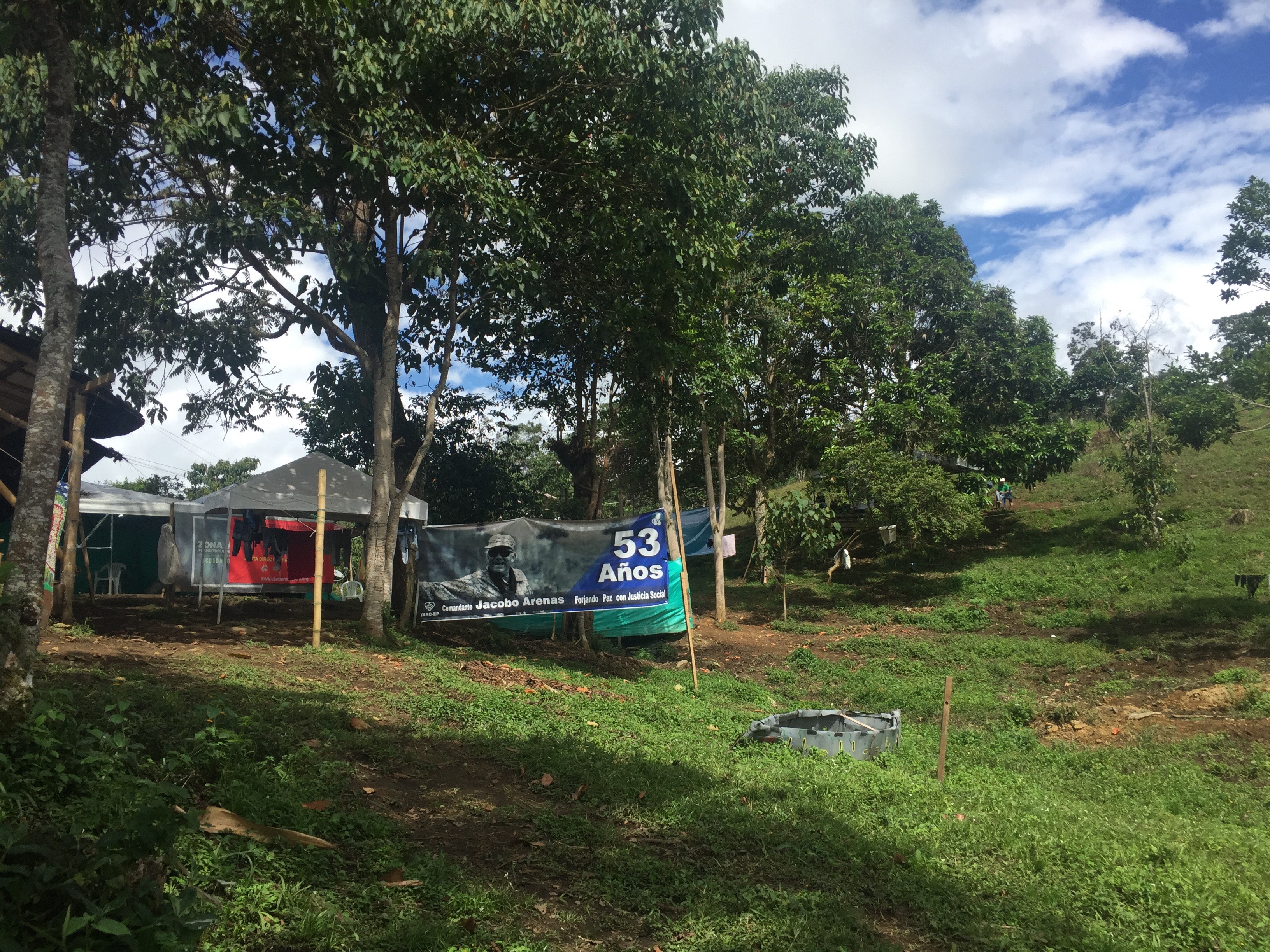 I asked him what his daily routine was like. A teenage girl in a pink jacket, Mireya, who had been bashfully listening on the side-lines boldly interjected: "At 4.50 we get up with the sound of the birds". She then demonstrated the sound they make by kissing her hand. "At 5.30 we gather, we drink tinto [black coffee] and we distribute tasks, guarding might be one. At 6.30 we work out, so that we don´t get fat." She glanced knowingly at Adrian. "From 6.30 – 8.30 we study. I´m at high school level. At 9.00am we have breakfast. After breakfast we have communications classes. From 1.00pm-3.00pm we work in the community. At 4.30 we have food. At 5pm we read the news together and have services. From 6.00pm – 8.00pm we have more study time. 8.30pm is lights out, and we go to bed."
Interestingly, the FARC´s routine in Antonio Nariño almost perfectly matches the routine that had been outlined to us earlier that week by Boris, a man who demobilised from FARC 15 years ago. He had even demonstrated the same birdsong with his hands, and mentioned the 5.30am tinto. There were some variations; Boris was reflecting on his daily routine during the war, and so tasks included cleaning and repairing weapons. But it was almost minute-for-minute the same. That a man who left a group 15 years ago would be able to guess what a teenage girl he´d never met, but from that same group, was doing at any given hour is a strange thought.
Mireya also echoed Boris´s praise of the communitarian lifestyle. Even though he said his decision to leave the FARC was a rational one, there had still been a glow in his eyes as he reflected on the sense of camaraderie. "Despite education levels being low, the guerrilleros are smart, modest, extraordinary people with a high capacity to think collectively. Of course in every group there is diversity, but most of them are very good human beings".
I was trying to measure up what Boris had told us while talking to the FARC members. I remembered him also emphasising how important he believed self-critique was for change, on behalf of the government and the guerrillas.  In the short time I was in Antonio Nariño, there wasn´t really a whiff of self-critique. But I did certainly get a sense of the FARC´s enthusiasm to cooperate and to ensure the victims remain at the centre of the agreement.
The only woman who was sat among the men, who had remained quiet throughout, told us "this is not about impunity. It´s about recognising the importance of reconciliation in building a lasting peace. Reconciliation means giving victim´s the truth over what happened."
As the day reached golden hour, the toddlers at the edge of the group were starting to have tired tantrums, a helpful reminder not to romanticise the whole experience. We shook hands, said goodbye, an American student bought a keyring, and we headed back.
After a slippery walk down the hill, which resulted in several muddy bottoms, a breakdown in Icononzo, a 4 hour wait on the side of the road, a change of bus, a subsequent flat tyre, a 45 minute wait, and a 3.5 hour journey, we were home.
For now it was "¡Adios a las FARC!" but the laying down of their weapons beckons a new era, for them and for Colombia.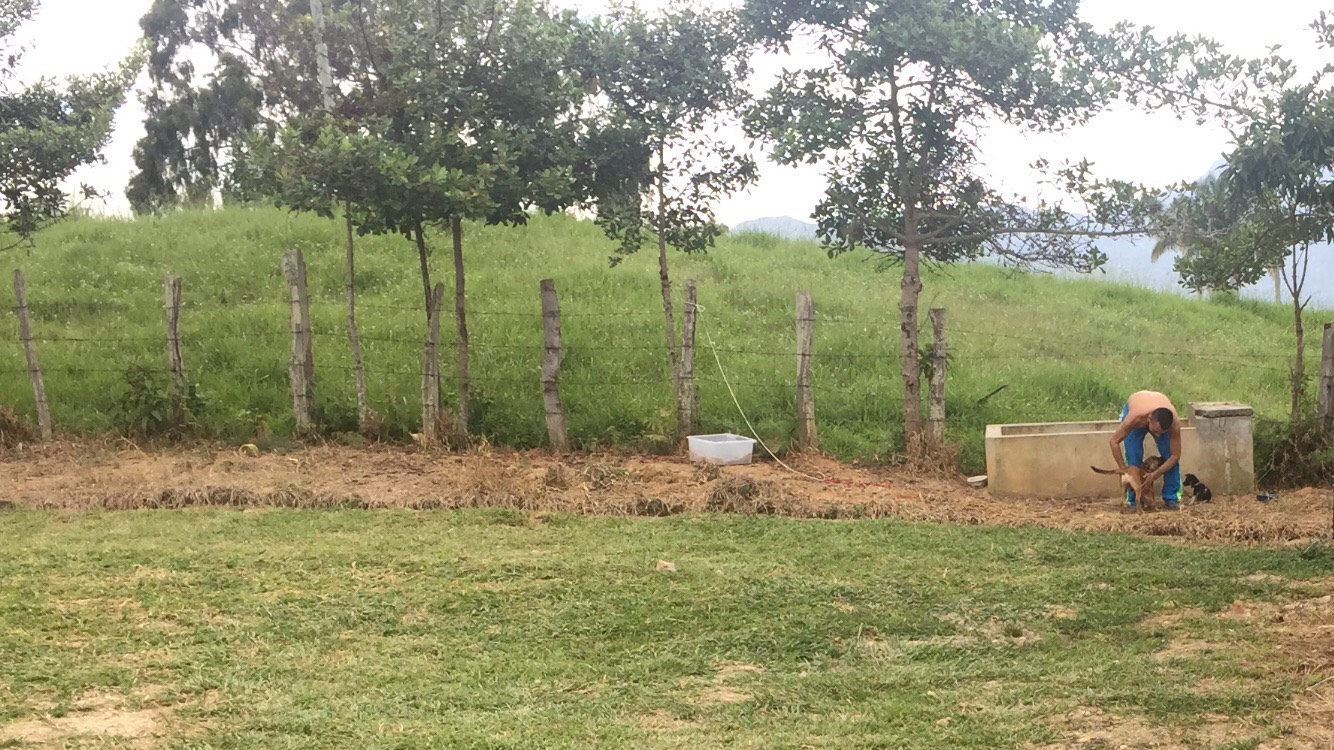 (Visited 302 times, 1 visits today)